Welcome back to Trail Tails Tuesday.  This week let's actually talk about trail riding.  The calendar says it's spring but the weatherman keep showing snow. Argh.  When the snow does decide to stop we all know what is next, rain, mud and soggy trails. 
Spring riding can be tough because of the soft ground.  Just because a map says horses are allowed doesn't mean we should ride on them just yet.  Now is the time to be courteous and realize that our 1000lb animals can ruin a trail very quickly if ridden on too soon.  Sometimes it's just one bad experience for another trail user and horses (as well as bikes) can be kicked off the trail. Rule of Thumb? Stick to dirt roads, railroad beds and bike trails until the mud in your pastures has gone. That way trails stay divot free and horse lovers can enjoy them for years to come.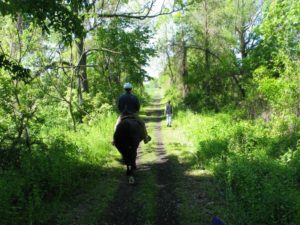 Recommended Trails for Spring Riding:
–       Genesee Valley Greenway – 86 miles – old railroad bed
–       Lehigh Valley Trail – ~15 miles – old railroad bed
–       Sonyea State Forest – Most of the "trails" are gravel road
–       Letchworth State Park – Parade Grounds Entrance – Closed until May 1st to vehicle traffic but there is a large parking area in front of the gates to park trailers and ride in.
–       Finger Lakes National Forest – Many gravel road trails to ride on.
–       Auburn Trail – 9 miles old railroad bed
–       Groveland Secondary Trail (York to Alexander) – 20 miles – Old Railroad Bed
–       Ontario Pathways – 23 miles old railroad bed – This trail was on the news last year when a tanker took down the bridge over 5&20.  There is a detour until a new bridge can be built.
Do you have a favorite spring time trail?  Share it in your comment.
Happy Trails!
Trail Tails
The Tuesday Horse Blog Linky
Promote Your Horse Blog
Sharing Your Blog Link
Please use your FULL perma-link URL not just your blog domain name.
Example Bad: http://www.RochesterTrailRiders.com
Example Good: http://www.rochestertrailriders.com/2010/12/winter-fun-with-horses/
Pay it back! All we ask is that you pay it back and place either a link back to RTR in your post or use the following button in your post.
Please comment and remember to leave comments on other folks pages too! Everyone loves feedback.
Mister Linky's Magical Widgets — Easy-Linky widget will appear right here!
This preview will disappear when the widget is displayed on your site.
For best results, use HTML mode to edit this section of the post.