This week's story I bring to you the hidden dangers of 5 gallon buckets.  Now I don't mean to scare anyone and to be honest I really haven't changed my habits on the farm any since this incident. What am I talking about?  Eyelids.  Specifically rather gruesome semi detached eyelids.
My late great arab mare Hobbie taught me that no matter how much you fuss over your horses, protect your pastures, fences, stalls and more, a horse will always find a way to hurt itself.  
I remember the day well, it was a beautifully warm summer morning and I headed off to work as I always did.  Not soon after I had arrived my phone rang, it was my husband.  He made several gagging sounds as he described the scene he discovered.  He had me at "dangling eyelid" and I immediately 180'd.
Hobbie sure did have a dangling eyelid.  She amazingly severed about ½ of it off and looked rather uncomfortable.  Thankfully, there wasn't much blood and the only blood we could find was on her leg where she would rub her face.  I brought Hobbie into her stall and rinsed out the eye with saline solution and called the vet.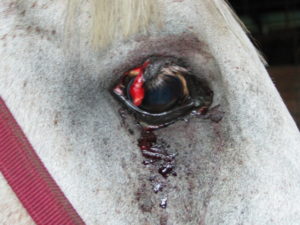 The vet showed up a short time later and immediately set my mind at ease.  It could be repaired with 0% loss of function and 100% recovery with no scar.
So how does a vet operate on a horse's eye?  They drug it of course.  Thankfully horses legs can lock in place in the standing position so with some sedatives and several hay bales to hold her head up Hobbie was resting comfortably.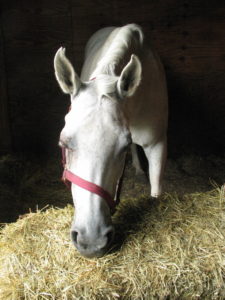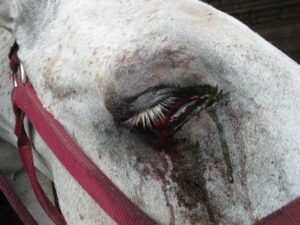 The vet made the job look so effortless and in a few short minutes the eyelid was reattached and good as new.
So why my comment about the 5 gallon buckets?  It turns out that she caught her eye on the handle of one of them.  Solution? Duct tape or electrical tape the bend where the handle meets the bucket.  Yes companies put rubber stoppers on the end but apparently they don't help much.
I'll have you know Hobbie fully recovered and had a beautiful eye just in time for her to be my mount in our wedding.
Here's a look of the same eye just one week later.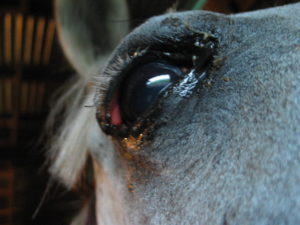 Trail Tails
The Tuesday Horse Blog Linky
Promote Your Horse Blog
Sharing Your Blog Link
Please use your FULL perma-link URL not just your blog domain name.
Example Bad: http://www.RochesterTrailRiders.com
Example Good: http://www.rochestertrailriders.com/2010/12/winter-fun-with-horses/
Pay it back! All we ask is that you pay it back and place either a link back to RTR in your post or use the following button in your post.
Please comment and remember to leave comments on other folks pages too! Everyone loves feedback.

Mister Linky's Magical Widgets — Auto-Linky widget will appear right here!
This preview will disappear when the widget is displayed on your site.
For best results, use HTML mode to edit this section of the post.