As I wondered out to the barn in blowing wind and single digit temperatures to give my mare her 7 month EHV shot it reminded me of all the craziness that got me to this point. 
To breed or not to breed?
When I bought my mare I never initially intended on breeding her.  I was looking instead for a carriage horse and a best friend and of course something that fulfilled my childhood fantasies of a black horse with lots of hair.  I have always had a particular fancy for geldings and I searched high and low for one that would match my picky tastes.  Instead I found a cute little mare named Cotton. 
It was love at first sight when the owner brought her out of the barn into the daylight.  This little Morgan/Friesian (Moriesian) girl had the "it" factor for me.  The way she moved even at a lazy walk was impressive.  She was friendly and though she young and was only green broke to drive I knew she was something special.
We brought her home and I got to work training her further in driving and eventually to saddle.  I challenged her in every way imaginable and she seemed almost bored with most obstacles. 4 years old and bombproof by nature.  In my mind she was my perfect horse.
It wasn't until I started showing her that I realized how special of a horse I really had. Everyone thinks their horse is the best and looks judgmentally at others when showing. But when Cotton would back out of the trailer people would actually stop and watch.  They'd come up and ask me questions about her and want to know more about Moriesians. We had a blast at shows and to my surprise would win or place at all of them always coming home with the blue for confirmation.   It was then that I realized I might actually have a special horse and started thinking about breeding.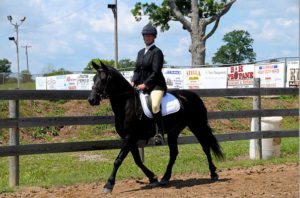 Breeding for what?
I made my mind up to breed but why and for what?  Immediately I knew I wanted to breed for another Moriesian but what %?  Full 2nd generation? Breed to a Morgan or to another Friesian?
It was time to look closely at my Mare, where are her faults?  After thinking it over I wanted a horse with a little more knee action, more hair, and good hoof angle (no Friesian club foot). That ruled out breeding to a Morgan and I didn't want to add the height a Friesian would bring so I decided on breeding to another Moriesian. 
Mr Stud Muffin
I looked at several photos and videos of Moriesian Stallions and kept the picture of my ideal horse in my mind at all times.  Some stallions were too big, I wanted a mature horse around 15hh. Some stallions looked lanky and must have been bred to light Friesians or the saddlebred type Morgans.  The biggest problem of all was finding a Stallion that didn't inherit the awful club foot of the Friesian yet still retained sport-horse movement.
Finally after all my searching I found Mr Right.  Medallion Moriesians Ivan-Reno.  Isn't he dreamy? 14.3hh with a beautiful Morgan type head, sport-horse movement, hair and looked like a mini version of a Friesian.  I loved him.
Contact and Contracts
Mare….check.  Stallion picked out….check, but he's in Arizona!  Time to talk to my vet. 
Like a great vet they try to talk you out of it.  The phrase I remember most was; "Do you love your horse? Yes? Then don't breed her." The reason for such a harsh phrase is pregnancy and delivery can result in injury or death! I've worked on many farms and am very familiar with what can go wrong. 
I assured the vet that I was aware of the risks and thought the pairing and resulting foal definitely outweighed them.  We then proceeded to do a check up to make sure my little girl Cotton was healthy enough to have a foal and would be receptive to an AI breeding.   Vet approval… Check
Next step was to talk to the stallion owner.  What a great experience, we chatted and sent more photo/videos back and forth and discussed what both of us wanted to see in a foal. Contracts were drawn up and $ changed hands.  That was easy enough!
I need sperm STAT!
What no one ever tells you is a stud fee of $800 is the minimal cost of AI breeding.  My new rule of thumb; whatever the stud fee is, multiply it by 3.  So your $800 fee turns into $2,400+ of vet bills and shipping. Why? Because when your mare is in heat you need sperm NOW.
Step 1. Determining when your mare is in heat.  For most folks this part is easy. Most mares get rather opinionated, pee at anything with 4 legs, will masturbate on fences, the side of the barn, water tanks or hay bales.  Not Cotton.  Come to think of it I have never seen her in heat.  Her temperament is even and she has never shown any signs. 
How do you determine the heat cycle of a horse when they won't tell you?  Ultrasounds!  CHACHING! Every 2-4 days for 2 weeks this poor mare was getting an arm stuffed up her rump until we finally found the perfect follicle.
Step 2 I need sperm. I happily called up the stallion owner and informed them that Huston, we have a follicle.  No go, the stallion was not a location where it could be easily collected. DAMN!
More ultrasounds for Cotton and a reschedule with the stallion owner and follicle #2 was looking beautiful.
We called up the stallion owner this time and there were only 2 hours away from a collection facility.  We'd have sperm in the mail and would get it by the next day.  Yippy!
The vet gave me a shot of prostaglandin to give Cotton that night so make sure she ovulated in time to meet her man. 
Step 3 Breeding time! I trailered my girl to the vets the next morning and promptly remembered, crap, I forgot to give her the injection. My vets looked rather concerned as well and we decided to see if things would work anyway.  The blue shipping container arrived right on time and insemination was a rather uncomplicated process. 
Is she pregnant?
With me missing the injection we were all worried Cotton wouldn't ovulate in time.  For this to work Cotton would have to ovulate within 48hrs of insemination. 
Unfortunately 48hrs came and she still had not ovulated.  We called the stallion owner up all bummed out.  Luckily while the stallion was being collected they also took straws for Frozen as well as the cooled they shipped me.  So, out they sent some frozen for the next time.
I brought Cotton home all heartbroken and practically out of money at this point.  I had enough funds for one more attempt since I just paid $300 to ship frozen semen across the country.
The Vet came back out 10 days later to check Cotton to see when she would be ready for another attempt and to our surprise, she's pregnant!  YIPPY! 
We had a baby foal floating around on the ultrasound.  I immediately called the stallion owner and the 2 of us squealed with joy.  Me, I was so happy because she took and the stallion owner so happy that Ivan was that potent past 48hrs.
Pregnancy
Mare pregnancy is rather uneventful.  Mare care…. Vet orders stated for me to do absolutely nothing different.  Same feed, same hay, no supplements and to give EHV at months 5, 7, and 9.
I was surprised on how little Cotton showed up until the last month of pregnancy.  About the only difference I could find was that her winter blanket didn't fit right.  I could see her belly under it and the straps were practically let out. This is a photo of her belly just 6 hrs before foaling.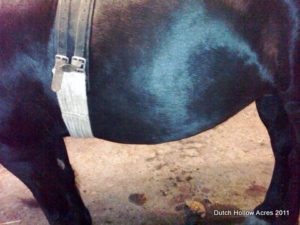 Foaling
The calendar was coming up on 11 months quickly and I decided since this was Cotton's first foal (and mine) I'd send her to a mid wife so to speak.  2 weeks before due date I loaded Cotton up in the trailer and we headed over to Carlland Stables.
Easter Morning around 2am we got a call that Cotton was in labor.  By the time I got dressed and drove to the barn the baby was already born. The whole event went by the book and we were blessed with a little filly and boy she is a beauty. We ended up naming her "Is A Bella" Izzy for short.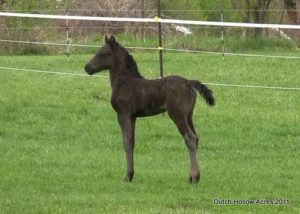 Rinse and Repeat
Would I do it again? Yup!  Izzy sold quickly to a woman who fell in love with her dream horse much like I did with Cotton.  So, once again I'm dreaming of little hoof beats around the pasture.  Here's to hoping for a healthy 2011 foal!