Enjoy riding all the trails we have in and around Rochester NY?  Why not join the fun this season and record your adventures! This is the 2nd year for this challenge and I have changed things up a bit to offer both a competitive challenge as well as individual bench mark challenges.
$10 per division to enter!
All participants MUST have or create an account on https://www.endomondo.com/ It's free doesn't cost anything!  There are free apps to use with Android/iPhone/Windows phone or if you don't have any of those fancy gadgets you can manually enter your trips.  This challenge is for any hacking or trail riding in or around the Rochester area. Ring work rides do NOT count. Overnight trips out of the area do not count, rides must happen within a day trip from the Rochester area.
NOTE!  Endomondo has an option for riding but NOT driving.  When logging driving hours be sure to choose "other" as your sport.
Prizes and Milestone Awards
Open Riding Most Miles
Open Driving Most Miles
Bench Mark Awards Riding/Driving

100 miles
250 miles
500 miles
750 miles
1000+ miles
No need to fill out a form is paying with PayPal
Just pick your division and Pay via PayPal.
If you want to send a check please fill out the Mail-In Form
FAQ
Is it too Late to Join?
No!  As long as you've been keeping track of your workouts you can back date them in the system. Or if you've been using Endomondo to track them all along as soon as you join it will automatically back date and calculate your workouts.   So whether it is Winter/Spring/Summer/Fall it's not too late to join in the fun.
I don't have a Smart Phone or GPS tracker Can I still join?
YES! Endomondo lets "Add workout" and "Draw route for new workout" on a map!  It has the option to either "snap to road" or you can draw your route free hand to calculate miles.  Just remember to keep track of your time our and enter it too!  It will even allow you to save your route should it a trail you do frequently.
What kind of rides/drives count?
I'm flexible.  The point is to get out of the riding ring. Any road hacks, private trails, public parks, greenways, etc.  Ring work does NOT count.  Travailing to locations is fine as long as you can trailer to and back in the same day, this is a local challenge.
Can I log workouts on more than 1 horse?
YES!  This is a YOU challenge not a 1 horse challenge.  Log any time you're out and about riding or driving, you can have multiple entries a day if you're working several horses.  Again NO ring work, these must be "trail" rides/drives.
Can I see my accrued miles and standings?
YES!  When you log into Endomondo go to Challenges –> My Challenges  This will show you your group and your standings
Here's an example of an Endomondo print out when tracking with a cell phone app.  Lots of information to help you and your mount get in shape this year!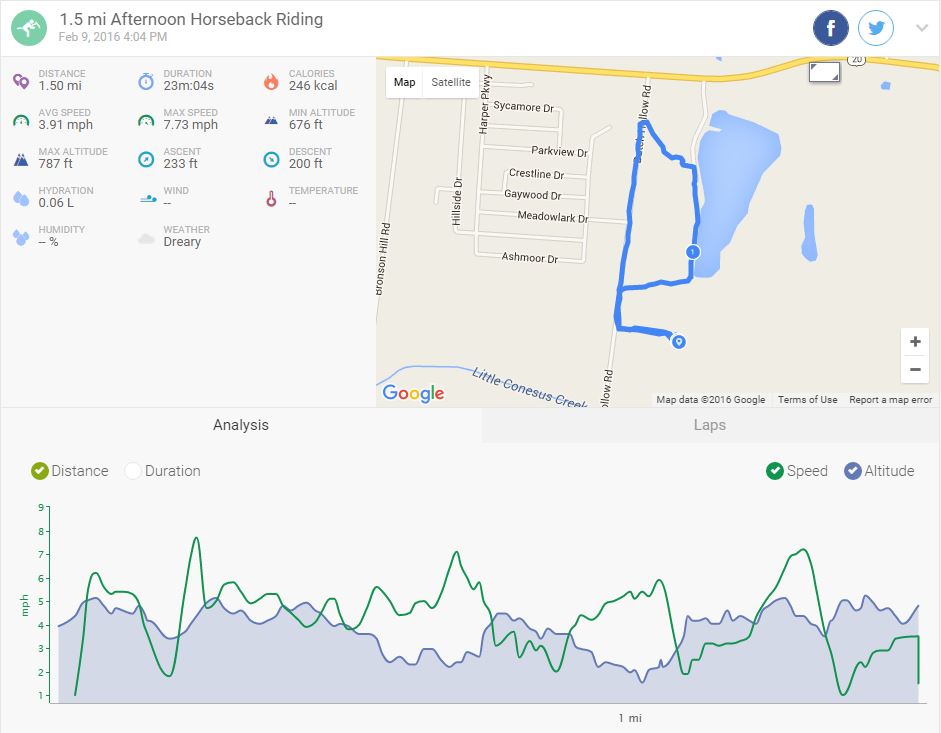 2017 Results
Driving
1 Sarah Bates 1145.34 mi
2 Patricia Anselm 265.59 mi
3 Jennifer Rogers 96.00 mi
4 Lindsay LaBella 95.66 mi
=====================================
Riding
1 Libby Llop 2313.56 mi
2 Jennifer Rogers 665.40 mi
3 Sue Sciortino 562.17 mi
4 Kathleen Hall 453.95 mi
5 Kimberly Ann 440.33 mi
6 Kaylin Stevenson 281.32 mi
7 Christine Wells 251.07 mi
8 Kim McGann 237.41 mi
9 Kathy Parnell 196.34 mi
10 Patricia Anselm 174.98 mi
11 Chris Meyer 93.33 mi
12 Andrea Barber 84.48 mi
13 Lindsay LaBella 67.73 mi
14 Janine Shull 9.07 mi